September 23, 2011
Delia Medina — Room Cleaner — Hyatt Regency — 37 years of service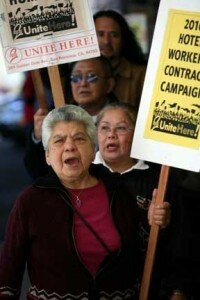 We're human beings. That was what I would say to the bosses whenever they were treating somebody badly. I would say, We're human beings, like you. We're not horses. You have to treat us like you'd like to be treated. That was my message for the bosses.
To the workers, especially the workers without a union, my message is: You don't have to feel alone. Because all of us, we're behind you. We're defending all of our rights. Do not feel scared for nothing. For nothing. We have the union behind us.
I'm 83 years old. I have two sons, two daughters, eleven grandkids, and 2 great-grandkids. I was born in El Salvador. I was a secretary and worked in an office, before I came here. But I came here thinking about my kids, thinking they would have a better education, a better life. Things have worked out very well for me, but I feel terrible about how immigrants are treated in this country. It hurts me when I see the problems that the immigrants, even legal immigrants are suffering. Immigrants are not treated like other people. They're always trying to go on, on, on, over us.
I first came to the US with my brother, leaving three of my kids in El Salvador. My brother said, if you like it, you can stay. If you don't, you can go back. I found a little job cleaning houses, but after fourteen months, my visa expired and I had to go back. One of my sons was already here, so he did my paperwork for my residence. When I went back, I waited for a few months for my visa. Then I came back legally, with my visa, and I started working.
When I started at Hyatt, there was this lady, a Mexican lady, who was the shop steward. She was very strong. She taught me how to make the bosses not treat people like slaves. I learned how to defend myself, and how to defend all my co-workers. I learned how to get the respect from all the bosses. Anybody who has a problem, I'm behind them. I'm fighting for them. And when they come against me, my co-workers are behind me, defending me.
I'm fighting for non-union workers because I would like to see all workers treated like I was treated. I want to see all workers have the same power and the same rights as we do. That's what I would really like: for everybody to have the same rights. It's not a sacrifice for me to fight for others.
Photograph Copyright David Bacon
permalink // tags: Hyatt, Hyatt Regency, Member Profiles