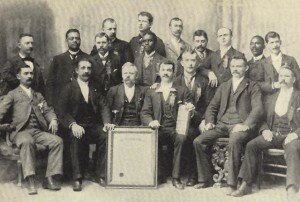 From the 1863 strike of the Benevolent Society of Cooks & Waiters, to the first HERE city-wide strike launched by 2,000 restaurant workers demanding a six-day work week 1901;
From 3,000 San Francisco restaurant workers walk out on strike demanding an 8-hour day in 1916 to civil rights activists stage a mass sit-in at the Palace Hotel, demanding that management hire African Americans into front-of-the-house jobs in 1964;
From workers walking out at 36 hotels for four weeks in 1980 to the 2-week strike and 53 day lockout at 14 hotels and the subsequent 2-year boycott that cost the San Francisco hospitality industry $100 million, UNITE HERE! Local 2 has a storied history of perseverance, commitment and courage in its struggle to secure justice for working families.
History of Hospitality and Food Service Workers in San Francisco
1863 – The Benevolent Society of Cooks & Waiters goes on strike, the first recorded work action in San Francisco's hospitality industry.
1886 – Restaurant workers organize District Assembly 58 of the Knights of Labor, and strike 50 restaurants in solidarity with the Bakers Union. In the same year, DA 58 joins other local unions in establishing the San Francisco Labor Council.
1901 – District Assembly 58 joins the Hotel Restaurant Employees International Alliance as Waiters Union Local 30. On May Day, 2000 restaurant workers launch the first city-wide strike in HERE's history, demanding a six-day work week. The Bakers, Butchers, and other San Francisco Labor Council unions eventually join in the strike, but are unable to achieve their core demands with the Employers' Association.
1902 – Waiters Local 30 organizes the first of several sister unions, Bartenders Local 41, Cooks Local 44, and Cooks' Helpers Local 110. Together, these unions constitute the Culinary Joint Board and in the same year win the six-day week in negotiations with the San Francisco Restaurant Keepers' Association.
1906 – Waitresses Local 48 is founded as a member of the Joint Board. The Great Earthquake and Fire destroy much of San Francisco, leaving thousands dead, homeless, or unemployed. Members erect a temporary union hall at the corner of Mission and Sixth Streets.
Culinary workers erect a temporary union hall in the aftermath of the 1906 quake.
1916 – 3,000 San Francisco restaurant workers walk out on strike demanding an 8-hour day. In the November elections, the Restaurant Keepers Association succeeded in passing an anti-picketing ballot initiative. Under intense police pressure, the union called off the strike in December, without achieving its core demand.
1918 – Palace Hotel workers win union recognition — the first employees of an upscale San Francisco hotel to do so. In contract negotiations, they are able to secure a 9-hour day.
1920-23 – The Eighteenth Amendment to the Constitution is ratified, outlawing alcohol and creating mass unemployment among bartenders and brewers. Meanwhile, employers (such as the San Francisco Hotel Association) take advantage of depression and the Red Scare to launch an assualt on HRE and other trade unions.
1930s – In the midst of the Great Depression, the San Francisco locals set up "soup barns" where unemployed cooks and waiters served up relief to their brothers and sisters.
1934 – San Francisco hotel workers walk out concurrently with the Longshore Union strike of May-June. On June 5, two union activists — including a member of the Cooks Local 44 — are shot dead by the employers' militia. In response, the Labor Council calls a three-day General Strike, in which 150,000 workers across the Bay Area participate.
1937 – On May Day, 4,700 hotel workers walk out on strike in support of the "miscellaneous workers" (dishwashers, bussers, and others) who were seeking to join the union. After 89 days on the picket line, union members returned to work. The terms of settlement included recognition for almost all the "miscellaneous workers" (under Local 110), as well as the first truly comprehensive Class A hotel contract in San Francisco.
1941 – During the summer, the newly-formed San Francisco Employers Council provoked a widespread restaurant strike by imposing 30% wage cuts. Soon thereafter, the Hotel Employers Association took the opportunity to provoke a series of hotel strikes in which it, too, sought concessions. The Hotel Employers were dealt a blow during October, when the Sir Francis Drake Hotel peeled off of the group under new management — having recently been acquired by Conrad Hilton. The remaining strikes ended in December, when the War Labor Board arbitrated a settlement to all strikes after Pearl Harbor.
1945 – Former Secretary of Waiters Local 30, Hugo Ernst becomes General President of the HRE International Union.
1950s – During a decade of rapid commercial development, San Francisco's hotel industry surpasses 3000 rooms. While it resulted in many new hospitality jobs, the building boom came at a steep price: thousands were evicted as developers razed many of the city's working class, especially African American, neighborhoods.
1964 – Civil rights activists stage a mass sit-in at the Palace Hotel, demanding that management hire African Americans into front-of-the-house jobs.
1975 – San Francisco's various culinary and bartenders' unions merge to form Hotel & Restaurant Employees Local 2.
1980 – For the first time in forty years, a major labor dispute wreaks havoc in San Francisco's hotel industry, with workers walking out at 36 hotels for four weeks.
1984 – Seizing on the growing anti-union political climate, restauranteurs provoke strikes at dozens of San Francisco restaurants. Meanwhile, hotel developers start building a wave of non-union hotels.
1989 – The union embarks on an ambitious campaign to rebuild power in the San Francisco hospitality industry. In city-wide negotiations, Local 2 bargains a longer-term, 5-year contract to devote more attention to organizing. Workers at the Grand Hyatt and Hyatt Regency strike in support of the right to organize, while workers at the non-union Parc 55 form an organizing committee. Days after the Hyatt strike ends, the Loma Prieta earthquake temporarily disrupts Bay Area tourism.
1993-4 – Workers at the Parc 55 win the right to join Local 2, turning the tide of falling union density in San Francisco's hotel industry. Meanwhile, workers prepare for upcoming contract negotiations. Key issues include the threat of subcontracting and job security in the event of hotel sales. In late 1994, workers at the Mark Hopkins walk out over the hotel's refusal to accept the same contract terms as other upscale properties.
1996 – Marriott Hotel workers organize to join the union. The hotel initially refuses to honor the terms of a card check agreement it had previously signed, sparking a long-running labor dispute over the right to organize and a fair contract. After six years of picket lines, a limited duration strike, and boycott, workers win their first contract in 2002.
1998-2001 – During yet another building boom in San Francisco's hotel industry, numerous hotels open their doors. This time, however, most of the hotels have agreed card check neutrality, permitting their workers to join the union without resorting to drawn-out labor disputes.
1999 – In citywide hotel negotiations, the union gains significant improvements in the living standards of hotel workers – including a reduction in roomcleaners' workload, improved pensions, and job security in the event of hotel sales.
2004 – The Hotel Employees & Restaurant Employees International Union merges with UNITE, the textile and laundry workers union. Meanwhile, members of HERE Local 340 in San Mateo County vote to merge with Local 2.
2004-2006 – Local 2 responds to the growing power of hotel corporations by stepping up its coordination with sister hotel unions throughout the US and Canada. Members demand to renegotiate their contract at the same time as workers throughout North America. On September 29, 2004, with the hotel companies refusing to agree to a 2-year contract, and continuing to demand huge concessions, Local 2 launches a 2-week strike at 4 hotels. The Multi Employer Group retaliates with an indefinite lockout at 14 hotels. With constant picket lines turning away business, intense pressure from the San Francisco community, and solidarity actions throughout North America and the world, the hotels end their lockout in late November.
The boycott of Multi Employer Group hotels continues through 2005 and much of 2006, while San Francisco hotel workers continue working without contract. In 2006, negotiations commence in Toronto, New York, Honolulu, Chicago, Monterey, Boston, Los Angeles, and several other cities in the US and Canada. With the support of all these cities, Local 2 negotiates a landmark contract with the Multi Employer Group. The settlement includes improvements in wages, pension benefits, health care, as well as card check neutrality at after-acquired hotels in San Francisco and San Mateo Counties.
2008 - Over 300 workers at 2 non-union hotels; The Hyatt Fisherman's Wharf and the HEI Le Meridien hotel are leading the struggle for non-union hotel workers in San Francisco. They are seeking Card Check Neutrality agreements from their employers. In February 2009, a majority of workers at both hotels are calling for boycotts of their employers.