UNITE HERE! Local 2 represents about 12,000 workers in the hospitality industries of San Francisco and San Mateo. Local 2 members work at many job sites – including hotels, restaurants, food services, laundries and San Francisco International Airport. They include room cleaners, cooks, bartenders, bellmen, food and beverage servers, bussers, and dishwashers. Local 2′s parent union, UNITE HERE!, represents hotel, food service, and gaming workers throughout the US and Canada.
San Francisco Hotels
9,000 Local 2 members work across 61 hotels in San Francisco, including 31 of the city's upscale properties.
These 31 hotels are managed by 17 different companies, on behalf of 28 different ownership companies. However, five management companies employ about two thirds of all hotel workers in San Francisco: Marriott; Starwood; Hyatt; InterContinental; and Hilton.
The union is negotiating for new contracts at all these hotels. The expiring contract was negotiated in 2006, putting an end to a two-year dispute that caused turmoil in San Francisco's tourism industry. Learn more about San Francisco's hotels here.
A Decent Living Standard
San Francisco's hotel workers work at the core of the region's economy. Last year, according to the San Francisco Convention & Visitors Bureau, 4.7 million visitors spent $5.3 billion on their hotel stay. Hotel tax generated $233 million, constituting 44% of City revenues from the tourism industry.
Through their union, hotel workers in San Francisco have been able to uphold livable wages and benefits that keep them from having to resort to MediCal and other government assistance programs. This stands in stark contrast to the condition of workers in cities that, unlike San Francisco, are predominantly non-union.
A typical hotel worker in San Francisco earns roughly $30,000 per year. Because of the seasonality of the tourism industry, workers average considerably less than 40 hours per week, and many work second jobs. Though these wages make it difficult to meet the Bay Area's high cost of living, combined with affordable healthcare, job security, and retirement benefits they permit hotel workers to raise their families with dignity.
The Members of Local 2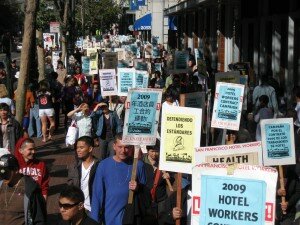 Local 2′s members are the face of San Francisco's hospitality industry. A majority have come to San Francisco from overseas, including China, Latin America, and the Philippines. They take enormous pride in delivering world class hospitality to San Francisco's guests, and the average member has worked at their hotel for over 12 years.
In negotiations with hotel management, Local 2 is represented by a bargaining team consisting of about 125 rank-and-file leaders. Hundreds more participate in the union's leadership committee meetings.
Learn more about Local 2′s history.